Make a wish
Ići ćemo,jel da?
Pa naravno…ne bih to propustio nikada u životu…
Dobro onda…nadam se da će I biti tako.
Dugo nisam mogla da zaspim posle njega.Gledala sam ga.Pogledam na njegov sat…a ova mala kazaljka,toliko žuri…malo je besmisleno toliko negde žuriti…
Čula sam neku galamu napolju…izašla sam na terasu plašeći se da ga ne probude.Rasveta nadomak sobe bacala je svetlost pravo u našu terasu….pomeram zavesusvetlost mu obasjava lice...sad ga mnogo jasnije vidim...Zažmurio je jače…videh to I nasmejah se.
Izlazim na terasu….rastežem se kao posle višečasovnog dobrog sna…osećam se srećno…I jesam srećna.
Pevušim u sebi pesmu…našu pesmu…
Lagano se vraćam u krevet,da ga ne probudim…stavljam svoju glavu do njegove,još laganije ga grlim…I žmurim…sa osmehom utanjam u san.
Dobro jutro…hajde kafica je spremna.Jesi li lepo spavao?
Dobro jutro...jesam...(odgovara uz osmeh)
Prislanjam svoje usne na njegove..zmurim…pomislim želju I nadam se ispunjenju. Što bi rekao Balašević…Dobra je to želja…šteta bi bilo da propadne.
*delta*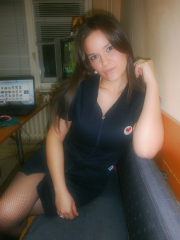 Žensko, 37 god.,
Srbija
5 god ,
301,
4 god
Najpopularniji korisnikovi blogovi